Contact us
20223 Elfin Forest Road
Elfin Forest, CA, 92029

email:


COMMUNITY FACILITIES
In terms of community facilities, there are four major resources located within the community
ELFIN FOREST FIRE STATION:
Located in the heart of the community, the Fire Station not only houses the volunteer fire department, but also serves as a meeting place for community meetings and events. Come here for monthly community meetings, and for the Independence Day picnic celebration.
HIKING TRAILS:
Private and public equestrian and hiking trails: Elfin Forest is home to more than 23 miles of private trails/linear parks and one public trail which runs from the Questhaven Retreat south for approximately one mile along Questhaven Road.
ELFIN FOREST RECREATIONAL RESERVE AND SUSAN VARTY INTERPRETIVE CENTER:
This spectacular 750 acre open space park and recreational area was developed by the Olivenhain Municipal Water District (OMWD) in cooperation with the US Department of the Interior/Bureau of Land Management. The Reserve offers about 17 miles of hiking, mountain biking and equestrian trails, picnic areas and scenic mountain viewing points.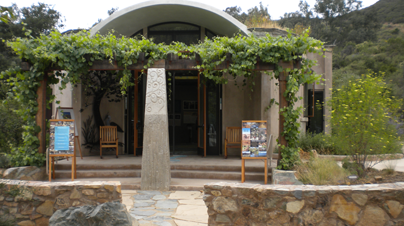 In addition the uniquely designed Susan Varty Interpretive Center offers interesting background and museum exhibits. The entrance and parking lot are located on Harmony Grove Road.
The reserve is open daily from 8.00 AM to half hour before sunset.
Dogs are permitted on leash, please pick up after your pet!
All fires, smoking and firearms are prohibited.
Trail maps and literature are available at the Reserve.
Groups consisting of eight or more people or horses or four or more vehicles please obtain a permit prior to visit the Reserve.
For more information please call 760-632-4212.
FIREWISE GARDEN:
The Fire Wise Garden was created after the big 1996 fire. Former Elfin Forest resident Nils Lunnerdal was a champion of the fire safe landscape and his efforts have helped many homeowners throughout San Diego County beautify their landscapes safely. This beautiful exhibit, which is located by the Elfin Forest Fire Station, is a living demonstration of the techniques we can use to safeguard our homes from brush fires. A garden can be beautiful, interesting, water-wise and safe all at the same time. The Fire Wise Garden is a popular destination during the Elfin Forest Garden Festival, and has been featured in several magazines and landscaping books.
To download the brochure please go to: elfinforestfire.org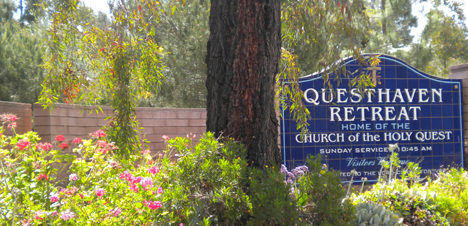 In addition, Elfin Forest is home to the Questhaven Retreat. As described by the Retreat leaders, "The Questhaven Retreat was founded in 1940 and has been in continuous use as a non-denominational Christian retreat and training school for students who seek the universal way of Christian discipleship".
For a schedule of services and activities please visit the website at: www.questhaven.org.